Save Energy with Nest Learning Thermostat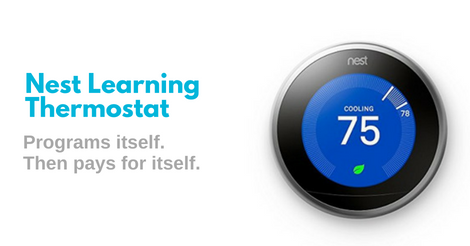 The Nest Learning Thermostat saves you from the tedious task of manually programming your thermostat. It uses smart technology to monitor the temperature levels in your home, automatically adapting to your habits and preferences to keep your home at the perfect temperature.
Features and Benefits
Auto-Schedule: No more programming. Whenever you change the temperature, it makes a note. If you make an adjustment before bed, Nest will learn to make an auto adjustment in the future.
Remote Control: Connect Nest Learning Thermostat to Wi-Fi to change the temperature from your phone, tablet, or laptop.
Auto-Away: Nest automatically turns itself down when you're away to avoid heating or cooling an empty home.
Energy History: Check your energy history and what affected your energy use.
Safety Temperature Alerts: Get an alert on your phone or tablet if your home gets dangerously hot or cold.
Early-On: Nest Learning Thermostat learns how quickly your home warms up and keeps an eye on the weather to make sure your home reaches the right temperature at the right time.
Nest Leaf: You'll see the Leaf when you choose a temperature that saves energy. It helps guide you in the right direction.
Savings
In independent studies, the Nest Learning Thermostat saved an average of 10 to 12% on heating bills and 15% on cooling bills.
Plus, the Nest Learning Thermostat is ENERGY STAR® certified which means it uses less energy, saving you money on your energy bill. Some utility providers offer rebates on ENERGY STAR® products. Check out our updated page of rebates to see what your utility provider offers.
Nest products work better together
The Nest Learning Thermostat interacts with Nest's growing range of products which includes Nest Protect smoke and co detector, Nest Cam security cameras, Nest Hello doorbell, Nest x Yale lock, and Nest secure alarm security system. All devices can be accessed through the Nest app on your smartphone, tablet, or computer. They can also be controlled using Google Home and Alexa Voice commands.
An added benefit of using multiple Nest products in the same home is that they all work together. For example, if Nest Protect senses smoke or carbon monoxide, it can tell your Nest Learning Thermostat to shut off to keep the danger from spreading.
Nest products help you save energy, keep your family safe, and stay connected to what's important.
Burkholder's HVAC is pleased to offer professional installation of Nest thermostats. We also offer a 5-year warranty on the thermostat when it is purchased directly from us. Typically the manufacturer and retail warranty combined is 3 years.
For more information or to schedule installation contact us today.