Ductless Mini Split System Installation & Repair
Great for Retrofits, Additions, & More
Get the comfort for every part of your home, even if it doesn't exist yet!
Over the last year or so, we are finally beginning to see positive turn in the housing market. Interest rates are seeing some of the lowest figures we have seen in a while. With this knowledge, many current homeowners in the Lehigh Valley are trying to turn a higher profit off their homes by performing extensive renovations or additions.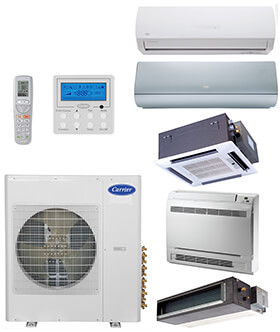 Many of these older homes, particularly smaller brick homes and row homes, still use traditional style window air conditioning units. In homes like these, Burkholder's technicians have recommended different solutions to replacing window A/C units. At times, there many not be many options due to logistical challenges in the infrastructure of the walls and ceilings.
In cases like these, we have recommended ductless, mini-split heat pumps for our Lehigh Valley customers. Ductless HVAC systems are a great solution for homes with little to no room for bulky air ducts. They fit to handle your heating and cooling needs and combine with other systems such as hot water heaters, radiant floor panels, and fuel space heaters. It is also beneficial if you have renovated or extended your home, but do not have the means to extend or install new ducts.
How It Works
In a mini-split system, a small heat pump compressor unit sits outside of your home. Connected to the outdoor unit are thin pipes filled with a refrigerant liquid. Similarly to a heat pump, the pipes transfer the refrigerant in either a liquid or gas form. The refrigerant pipes break off to the separate rooms to be heated or cooled. The thin pipes are fed through the walls or ceilings to connect to a small head unit mounted in the ceiling or walls. A head unit containing a fan, blows across the refrigerant pipes, delivering hot or cooled air into the rooms.
Why We Recommend Ductless Mini-Splits
They are easy to install.
They are super efficient because there is no energy loss due to leaky or bulky air ducts.
Unlike window units, they are super quiet.
Temperature control in specific rooms can benefit those in residential and commercial environments.
Other Considerations to Mini-Split Heat Pumps
There are very few unfavorable aspects to the mini-split system. However two disadvantages include:
Limited styling options. Depending on the chosen head unit, wall mounts or ceiling mounts may not be visually attractive.
Because it is a ductless system, there is no air return vent to recondition and circulate fresh air back into the rooms.
---
WANT TO INCREASE YOUR HOME EQUITY?
Before you sell your home, consider the current state of your HVAC system—it can easily add a few thousand dollars in your home equity, or make or break a deal in a home sale. If you have recently added an extension to your home or have renovated areas that need heating and cooling, consider installing Ductless Mini Splits to increase the value of your home.
Contact Us for More Information