HVAC Financing Options
The heating and cooling experts have great financing offers from EnerBankUSA, NEIF (National Energy Improvement Fund), and RedBrick Financial Group that'll keep you living comfortably, whatever the season.
---

EnerBank USA's home improvement payment options help you create your dream home. Our loans have many advantages over other funding options, including the following:
Low, fixed interest rates. These rates are easily available to anyone with good credit.
Unsecured. You don't have to put up your house as collateral.
Keeps your home equity intact. Reducing home equity takes away future options.
No headaches. After all your hard work and planning, you've earned a quick, hassle-free loan experience, and you get a response within minutes.
Approved Properties
Primary homes
Vacation homes
Residential rental properties
"Same-As-Cash" Financing
Special offer: "Same-As-Cash" financing which allows you to make no payments and pay no interest for up to 12 full months!*
100% Unsecured Loans From $1,000 – $45,000
12 Months Same-As-Cash / No Payments*
Quick & Easy Loan-by-Phone Application Process
No Application Fee, Closing Costs or Pre-Payment Penalties
*Loans provided by EnerBank USA, Member FDIC, (1245 Brickyard Rd., Suite 600, Salt Lake City, UT 84106) on approved credit, for a limited time. Repayment terms vary from 24 to 132 months. Interest waived if repaid in 365 days. 18.58% fixed APR, effective as of May 1, 2019, subject to change. Interest starts accruing when the loan closes.
Express Loan Program
Make low monthly payments on your home improvement project.
100% Unsecured Energy Efficiency Financing
6.99% Fixed APR*
7 Year Loan Term. Loans from $3,500 to $45,000
Quick & Easy Loan-by-Phone Application Process
No Application Fee, Closing Costs or Pre-Payment Penalties
---
NEIF Home Energy Improvement Plan


The NEIF Home Energy Improvement Plan is for energy-related improvements to your home. Additional work can be included if at least 50% of the project is:
Heating & Cooling
Furnaces, boilers, heat pumps, air conditioning, and all related work
Windows, Doors, Siding & Roofing
Air Sealing & Insulation
Electrical & Plumbing including lighting and controls, generators, water heaters, water treatment, baths, and kitchens
Home Performance with ENERGY STAR®
Geothermal, Solar & Other Energy Projects
Who is eligible?
All homeowners who are making qualifying improvements to their primary residence or vacation home (1 to 4 unit on a permanent foundation). Good credit and the ability to repay are required. All income levels are eligible.
Special Features
Finance 100% of your energy improvement up to $25,000
True Fixed Rate, Fixed Monthly Payment
NO adjustable rate, "teasers" or surprises
NO lien on your home
NO home equity required
NO points, fees or closing costs
NO penalty for pre-payment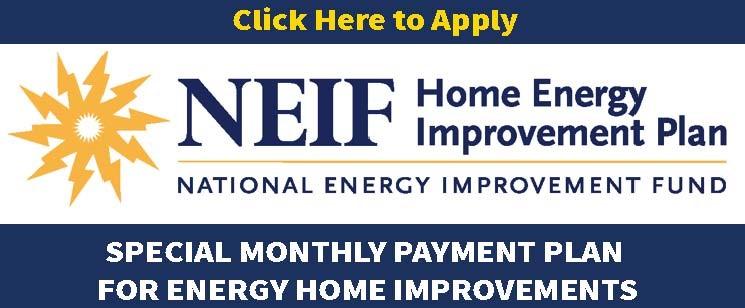 RedBrick Financial 

Whether you're urgently replacing equipment or upgrading to a more energy efficient system, it's good to know that the solution that's best for your home can be yours through affordable financing.  You'll enjoy the comfort of your new heating/cooling system, and appreciate the potential contribution to the resale value of your home.
We're proud to partner with RedBrick Financial, an industry leader in financial solutions for home improvements with fast, fair and budget-friendly payment options that fit your needs.
Why RedBrick?
Easy, online application.
On-the-spot approval.
No down payment.
Pay off your loan anytime. No penalty.
Apply online now! It's confidential, secure and fast!