---
Residential HVAC Maintenance Agreement
Out of Sight, NOT Out of Mind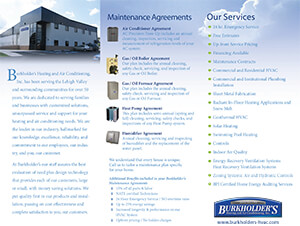 The old but true cliché "out of sight, out of mind" is often the reason for neglected maintenance guidelines for your HVAC system. HVAC systems are usually installed where they aren't seen, such as in a section of the basement, a closet, on rooftops, or in mechanical rooms, making them easy to ignore. The systems are simply taken for granted, until they fail. Decreased efficiency, utility overpayment, discomfort, eventual premature replacement, and higher repair costs are the result.
Just because your HVAC system is out of sight, does not mean it can be neglected. Getting your HVAC system checked annually is just as important as changing the oil in your car every 3,000 miles!
Maintenance Agreements
Air Conditioner Agreement
AC Precision Tune-Up includes an annual cleaning, inspection, servicing and measurement of refrigeration levels of your AC system.
Gas / Oil Boiler Agreement
Our plan includes the annual cleaning, safety check, servicing and inspection of any Gas or Oil Boiler.
Gas / Oil Furnace Agreement
Our plan includes the annual cleaning, safety check, servicing and inspection of any Gas or Oil Furnace
Heat Pump Agreement
This plan includes semi-annual (spring and fall) cleaning, servicing, safety checks, and inspections of any Heat Pump system.
Humidifier Agreement
Annual cleaning, servicing and inspecting of humidifier and the replacement of the water panel.
Additional Benefits included in your Burkholder's Maintenance Agreement:
15% off all parts & labor
NATE Certified Technicians
24 Hour Emergency Service / NO overtime rates
Up to 25% energy savings
Increased longevity & performance of your HVAC System
Upfront pricing / No hidden charges
---
Is poorly maintained HVAC equipment costing you money?
The typical American family spends close to $1,862 a year on their home's utility bills. Cooling and heating your home uses more energy than any other system in your house. Unfortunately, a large portion of that energy is wasted. By using a few inexpensive energy-efficient measures, you can reduce your energy bills by 5 percent to 25 percent. Remember that the easiest way to save energy money is to conserve energy.
Easy steps to reduce energy consumption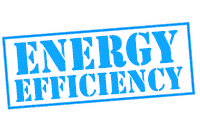 Replace air filters monthly. Accumulated dirt and dust make your fans work harder.
Seal ducts – Check for air leaks and repair with duct tape. This can cut energy costs in many homes by 20%.
Bleed trapped air from hot water radiators.
Wrap hot water heaters in an insulation blanket with a minimum R8 rating to see a savings of up to 9%.
Setting back your thermostat in some homes can decrease your heating bill by 2% for each degree less (winter) for a minimum of 8 hours.
Check fireplace damper to ensure it is closed when not in use.
Install a timer for your electric water heater to shut off during times you are working, or while sleeping.
If you still have any additional questions, feel free to call us at (610) 816-6889. If you're ready to sign up for a maintenance contract today, Contact Us, and we'll take care of the rest.