Residential HVAC Maintenance Agreement
Out of Sight, NOT Out of Mind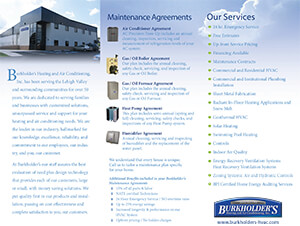 The old but true cliché "out of sight, out of mind" is often the reason for neglected maintenance guidelines for your HVAC system. HVAC systems are usually installed where they aren't seen, such as in a section of the basement, a closet, on rooftops, or in mechanical rooms, making them easy to ignore. The systems are simply taken for granted, until they fail. Decreased efficiency, utility overpayment, discomfort, eventual premature replacement, and higher repair costs are the result.
Just because your HVAC system is out of sight, does not mean it can be neglected. Getting your HVAC system checked annually is just as important as changing the oil in your car every 3,000 miles!
Maintenance Agreements
Air Conditioner Agreement
AC Precision Tune-Up includes an annual cleaning, inspection, servicing and measurement of refrigeration levels of your AC system.
Gas / Oil Boiler Agreement
Our plan includes the annual cleaning, safety check, servicing and inspection of any Gas or Oil Boiler.
Heat Pump Agreement
This plan includes semi-annual (spring and fall) cleaning, servicing, safety checks, and inspections of any Heat Pump system.
Humidifier Agreement
Annual cleaning, servicing and inspecting of humidifier and the replacement of the water panel.
Additional Benefits included in your Burkholder's Maintenance Agreement:
15% off all parts & labor
NATE Certified Technicians
24 Hour Emergency Service / NO overtime rates
Up to 25% energy savings
Increased longevity & performance of your HVAC System
Upfront pricing / No hidden charges
Sign Up For A Maintenance Agreement
Please fill in your information to specify the type of service you need. Upon receiving your request, a member of our scheduling team will contact you to schedule your appointment at a time that is convenient for you. Thank you!
---