Oil Furnace Services in the Lehigh Valley
Providing Reliable & Efficient Oil Heating for Over 60 Years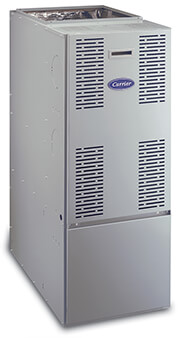 When it comes to choosing the right HVAC company to service your oil furnace, Burkholder's HVAC has a proven record in providing excellent service for its customers throughout Allentown, Bethlehem and Easton.
As a 8-time Angie's List Super Service Award Winner and Carrier Factory Authorized Dealer, we assure that our NATE certified technicians:
Consistently perform service to strict national standards and business practices.
Undergo ongoing extensive factory training on all technical aspects of oil furnace installation, maintenance and repair.
Are trained to identify and recommend the best solutions that provide excellent comfort and value specific to your needs and budget.
Learn more about why you should choose a Carrier Factory Authorized Dealer.
---
OIL FURNACE INSTALLATION & REPLACEMENT
As a local, family-owned HVAC company, we have over 60 years of experience installing and replacing oil furnaces in all types of homes throughout Allentown and the Lehigh Valley. When you choose Burkholder's HVAC to discuss installing a new oil furnace, our certified technicians will sit down with you to find the right heating system for your home's heating needs and budget.
---
OIL FURNACE REPAIR
Is your oil furnace on the fritz? Our certified repair technicians have over 60 years of technical experience diagnosing and repairing broken oil furnaces. Whether you live in the Lehigh Valley and beyond, Burkholder's promises fast, reliable service when you need it.
Need Emergency Oil Furnace Repair?
Call us now to speak to a live dispatcher.
---
OIL FURNACE MAINTENANCE
Annual cleaning and lubrication of parts is essential to ensure peak performance of your oil furnace. Your oil furnace maintenance visit will include this plus an examination of connections and worn parts to prevent failures, and coverage on labor and parts, including critical blower, fuel pump and burner components.
Additional Benefits included in your Burkholder's Maintenance Agreement:
15% off all parts & labor
NATE certified Technicians
24 Hour Emergency Service / NO overtime rates
Up to 25% energy savings
Increased longevity & performance of your HVAC System
Upfront pricing / No hidden charges
Download our Maintenance Brochure for full details.
---
ABOUT OIL FURNACES
Oil heating can be one of the most consistent ways to heat your home. Based on the principal of forced air, your furnace handles heating by a fuel source—oil. With oil, many homeowners can expect a clean burning fuel with very little smoke. Compared to other heat sources, such as wood-burning stoves, oil is significantly cleaner and outputs hotter temperatures. In the coldest winters, especially in the Lehigh Valley, oil can bring a medium to large home the right amount of comfort with consistency and efficiency.
How Oil Furnaces Work
Similar to a gas furnace, there are two valves that take in air to be heated and another valve to push air into the air ducts. With oil, a thin pipe connects to the furnace. A motor fan sprays the oil and atomizes it into a mist. This gaseous form of vaporized oil, when mixed with air, is ignited in a hot jet of fire. Once lit into the burner assembly, the flame heats the coils in the heat exchanger.
Any gaseous fumes or smoke from the flame is safely sent up into the chimney flue or through a pipe leading outside of the home to exhaust carbon monoxide or other air pollutants. A second air intake system draws air through a return vent. The air blows across the heat exchanger and is pushed back through the air ducts to heat the rooms.
Benefits of Oil Furnaces
Unlike gas furnaces, oil burns at a much higher temperature. A single flame from the oil burner can produce an average of 140,000 BTUs while gas produces up to 100,000 BTUs from multiple small jets of ignited gas.
Varying oil providers give you flexible options for your optimal budget costs and service. Gas services provides by your municipality is a fixed provider and price.
Your oil is safely stored on your property and is under your control. In severe winters, public gas lines can experience a drop in pressure, which could lead to inefficient heating.
Access to oil is an easy installation and delivery, rather than costly upfront costs to install public gas lines into your home.