Should I Shut Off My AC Before Leaving for Vacation?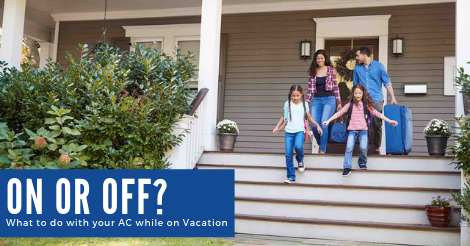 Do you have plans for a fun summer vacation? Will your house be empty when you are gone? If so, you're probably thinking of ways to save some money on your utility bills while your house is empty. If you've been thinking about shutting off your AC unit while you're away on your vacation, you may want to reconsider that choice.
Reasons for Not Turning Off the AC
While turning your unit off for the week or two you'll be gone will use less energy and decrease your electrical bill for the month, it can lead to other potential problems that could end up being more costly. In addition to cooling your home, your air conditioner also helps keep the humidity under control.
If you were to turn your unit off while you're away, the humidity levels in your home may rise. This could cause mold to grow or lead to musty smells in your home. Leaving your unit off when you're gone could also make your house very hot, which could damage electronics or wear out the motor in your refrigerator.
Instead of Turning the Unit Off, Turn it Up
While you should not turn your air conditioner off, there is no reason you need to keep your house as cool as you normally do. Setting your thermostat to around 83 degrees will keep your home cool enough to prevent any issues. This setting will also significantly reduce the amount of energy consumed, which will help keep your electrical bill lower.
Schedule AC System Maintenance Before Your Vacation
When your AC unit is not performing at its peak, it has to work harder and use more energy to keep your home cool. This can lead to high utility bills all summer.
Instead of just saving a few bucks while you're away on vacation, schedule an AC tune-up today to keep your bills lower all summer. An AC tune-up can help ensure that your unit is operating properly and is able to cool your home efficiently.
The pros at Burkholder's Heating & Air Conditioning, Inc. in Emmaus would love to help you keep your system well maintained and cut your monthly cooling bills. Give us a call today!