Increase Home Equity with HVAC Upgrades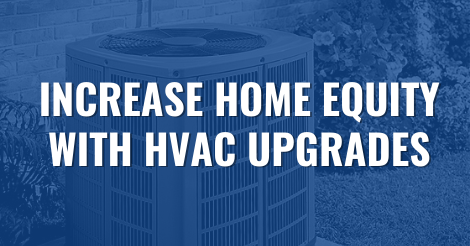 If you are thinking of selling your home and are looking for ways to increase your home's equity, consider installing HVAC upgrades.
Your HVAC system is an essential component of your home. Whether it is keeping you cool during the summer or warm throughout the winter, you rely on it all year long. A home with an upgraded HVAC system will have a significant impact on your home's value.
According to The National Association of Realtors, an HVAC system replacement has a 71% return on investment – higher than most other types of remodeling projects. So, if you are looking for ways to boost your home's equity, do not overlook your HVAC system.
Here are some upgrades you can make to your HVAC system to increase your home's equity:
Perform Maintenance and Repairs
If you already have a modern system, it is well worth your time and money to focus on maintaining it. Schedule preventative maintenance on the unit and replace the air filters, as necessary. Regular maintenance extends the life of the equipment and can help spot small issues before they turn into major repairs. Maintaining your systems also ensures that it is working at maximum efficiency.
Add a Smart Thermostat
Installing a smart thermostat is a great way to increase your home's equity. These thermostats allow you to manage your energy consumption by allowing you to control the temperature of your home remotely with a smart device. A smart thermostat also allows you to program your system to change to set temperatures throughout the day relieving you of the stress of having to adjust your thermostat manually.
Not only will a smart thermostat increase your home's value, but you will also see savings on your energy bills. Another great benefit to incentivize the home buyer.
Improve Indoor Air Quality
Considering installing a whole-home humidifier, dehumidifier, or air purifier to improve your home's indoor air quality. These products can make the air in your home more comfortable and safer to breathe by removing mold, bacteria, and other irritants. Whole-home units can are installed onto your existing HVAC system.
Upgrade to an energy-efficient system
If your HVAC system is over 10 years old, requires frequent repairs, or uses R-22 refrigerant, it is time to consider a replacement. If you decide to replace your system, opt for a newer energy-efficient model. Heating and cooling bills make up one-third of our annual utility costs. An energy-efficient model can reduce those costs by 20%. Being able to offer a home buyer this savings is a huge selling point.
Still Not Sure What You Need? Burkholder's HVAC can Help!
While all these upgrades are a great way to add equity to your home, you need to consider which one will add the most value to your home and fits your budget. If you need some help deciding, contact us today! We can handle your HVAC installation, maintenance, or accessory upgrades.