AC Repair, Service and Installations
Keep Your Cool With Burkholder's
Air Conditioning repair and installation from Burkholder's will keep you cool during the summer heat! Get your A/C inspected with Burkholder's $119 Inspection.
Central air has been a luxury comfort for many households for over five decades. Unlike window units and other ductless solutions, central air conditioning can keep the entire house cool. Multi-zone thermostats can be installed for custom temperature settings and to save on energy costs for rooms that are not being used. Installing the right air conditioning system for your type of home will not only cool your house efficiently but will also help maintain healthy levels of moisture for your home.
Installation and Operation of Central Air Conditioning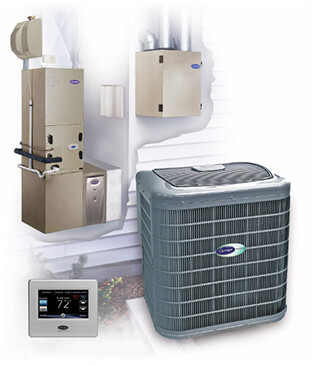 Central air conditioning is combined with intricate ductwork installed throughout the walls and ceilings to push fresh, cool air throughout your home. By setting a specified temperature on your thermostat, the A/C unit kicks into gear. The compressor inside an air conditioning unit pumps refrigerant back and forth to gather heat and moisture from indoors. Warm air from inside is blown over the cooling coil or evaporator coil, which is connected to the compressor, and then pumped back into your home.
Benefits of Installing Central Air Conditioning
Central air conditioning systems are quiet
Better for multi-story, larger homes
No bulky window units, or ductless wall units
Removes humidity from the air
Other Considerations to Central Air Conditioning
Ductwork installation contributes to higher up-front costs
Electricity costs may increase in extreme temperatures
Less control of multi-zone temperatures
Burkholder's has installed thousands of air conditioning systems and duct work for homes all over the Lehigh Valley. We'll come out to your home and do a proper in-home analysis to see which system is right for you. No matter the size or age of the house, we will work with you to find a system that is efficient and affordable.
---
Air Conditioning Priority Service & Maintenance
We want to ensure that every air conditioning system, whether new or existing, is protected and inspected for quality performance. Our priority service agreement takes care of the typical things that could wrong with your system. In addition to providing a springtime tune-up and inspection, plus emergency air conditioning repairs at no additional cost, we will provide coverage for parts and labor.
Central Air Conditioning Maintenance
Make sure your cooling system is in shape for summer. If your new or existing A/C unit already includes a manufacturer's warranty, consider Burkholder's maintenance agreement for your annual inspections and cleanings from our NATE certified technicians.
Burkholder's AC Maintenance Agreement includes:
A/C precision springtime tune-ups
Annual cleaning and inspections
Servicing and measurement of refrigeration levels
View a Complete List of Benefits for Our Central Air Conditioning Maintenance Agreement