Burkholder's HVAC supports local non-profits through LVCF COVID-19 Response Fund
Burkholder's Heating & Air Conditioning raised $3,582 for the Lehigh Valley Community Fund's (LVCF) COVID-19 Community Response Fund following the launch of the company's recent Gives Back Campaign.
The Gives Back Campaign, borne out of the ongoing COVID-19 crisis and in response to the growing needs of the local greater Lehigh Valley community, allowed current HVAC contract customers, as well as non-contracted customers, to schedule any preventive equipment maintenance services between April 27th-June 15th, 2020. Upon successful completion of the service calls made during that timeline, Burkholder's donated $6.00–a tribute to its milestone anniversary–on behalf of 597 customer transactions that were received to LVCF's newly created COVID-19 Community Response Fund. Each gift was matched dollar-for-dollar by the Foundation.
"To say that we are extraordinarily proud of the rallying response we received from this remarkable community since the moment our Gives Back Campaign was first announced is a sore understatement," stated Robert Burkholder, President. "From our valued customers who supported our promotion to our cherished employees who helped to catapult it over the course of its 8-week run–evidenced by the 597 fielded phone calls to our customer service department, all jobs which were serviced by our team of talented technicians–we are amazed by the display of unifying generosity during a time in history that tested and challenged so many without prejudice or limits."
Established in the spring of 2020, the COVID-19 Response Fund is dedicated to assisting local nonprofits in the Lehigh Valley to support individuals and families who have been adversely affected by the global outbreak. Eligible recipients of the contributions that have poured in from regional community partners–which has reached over $100,000–include organizations that provide critical social safety net services including food access, support for the economically disadvantaged, and services for those without shelter, and those at risk of homelessness. To date, sixty-four organizations have received fiscal support from partners like Burkholder's to sustain their operations and stretch their resources to those most vulnerable populations.
"We commend Burkholder's Heating & Air Conditioning, Inc. for their commitment to supporting area nonprofits during this difficult time through the LVCF COVID-19 Relief Fund," said Erika Riddle Petrozelli, Vice President for Philanthropy. "Burkholder's generous contribution helps the Community Foundation support a regional, coordinated effort to rapidly deploy resources to community-based, front-line nonprofit organizations in the Lehigh Valley as well as distribute grants directly to nonprofits."
LVCF continues to solicit additional donations to disburse adequate funding for other local organizations that provide education, child care, healthcare, utility assistance, job training, transportation, and violence prevention. For more information, visit www.lvcfoundation.org.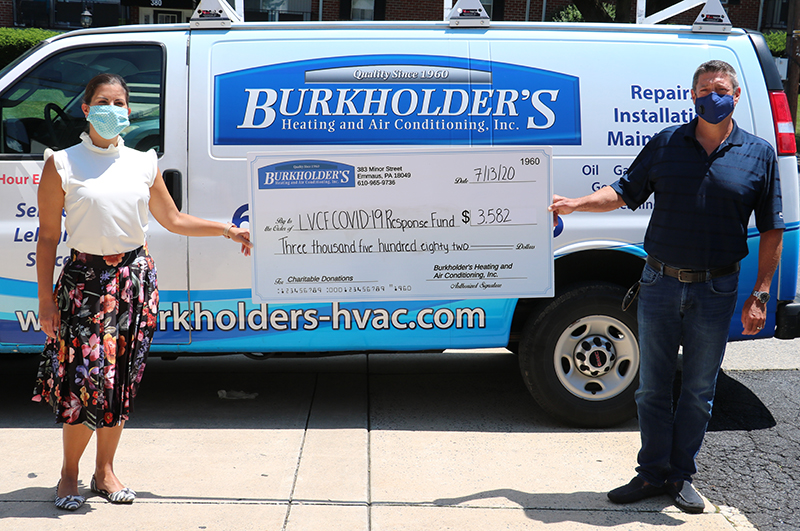 Erika Riddle Petrozelli, Vice President for Philanthropy, LVCF and Bob Burkholder