Burks Gives Back Haven House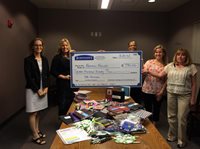 The month-long drive collected journals, notebooks, writing books and pens to facilitate the writing process for those suffering from mental illness. Writing is an important component of wellness and a supply of materials will hopefully make the process easier to begin.
Burkholder's is proud to have collected a total of 158 journals and $790 for the cause.