Burkholder's HVAC Supports Veterans in Need Through PA Wounded Warriors, Inc.
From October 1, 2019, through November 11, 2019, Burkholder's HVAC donated $10 for every new and $5 for every renewed residential HVAC maintenance agreement purchased to Pennsylvania Wounded Warriors, Inc. (PAWW).
During the promotion period, customers purchased 94 new contracts and renewed 420 contracts—totaling $3,040.
The donated funds will be used to provide Pennsylvania veterans and their families with financial assistance for housing, utilities, transportation, medical bills, and other expenses.
PAWW is an independent statewide non-profit that consists entirely of volunteers who donate their time and expertise to PA Wounded Warriors, Veterans in Crisis, and their families. Through generous donations, PAWW helps veterans and their families with expenses that are not covered under government programs.
PAWW also assists veterans with temporary housing placement to prevent homelessness while they transition into permanent housing.
To learn more about Pennsylvania Wounded Warriors, Inc. visit their website, www.pawoundedwarriors.org.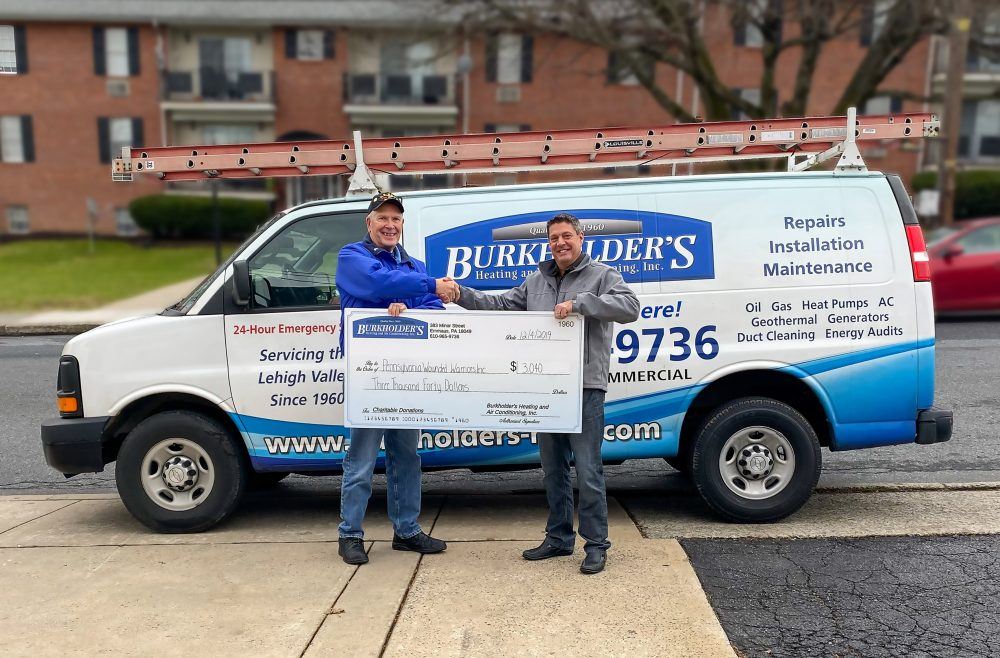 Mike Koniers, PAWW Representative, Bob Burkholder,  Burkholder's HVAC