Burkholder HVAC Named Top 2016 "Who's Who In The Lehigh Valley" List Of Top Regional Companies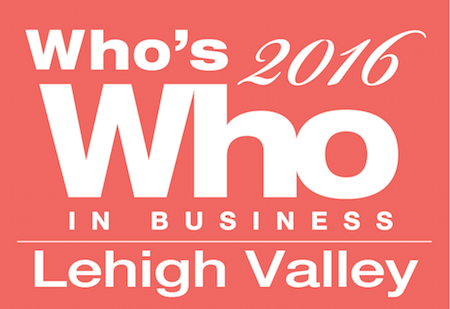 Burkholder's Heating and Air Conditioning has been named to the 2016 "Who's Who In The Lehigh Valley" list of premier businesses, capping a six-month period that has brought numerous honors and recognition to the regional leader in interior comfort.
Now in its 31st year, the distinguished annual program, and the associated recognition that goes with it, is the result of months of research. Polk-Lepson Research Group, an independent market research firm asks the questions and then compiles the responses from a random sample of households all across the Lehigh Valley.
Created to celebrate local business leadership, The Who's Who program seeks to reward local businesses for developing strong and memorable relationships with their customer, according to Lehigh Valley Style magazine, the sponsoring organization.
"We are particularly thrilled with being named to the list of Who's Who in the Lehigh Valley because the recognition really comes right from our customers and it demonstrates the quality of service, knowledge and reliability that Burkholder's brings to every customer," said company President Bob Burkholder. "It recognizes our great team members who provide that service and give us the ability to continue to grow."
The listing in the 31st Annual Who's Who awards is just the latest in a series of honors Burkholder's has received. The company was also a finalist in the Lehigh Valley Business journal's annual "Business of the Year" awards in the 36-100 Employee category and Lehigh Valley Business has also ranked the company 68 out the top 100 fastest-growing companies in its coverage area.
The last 15 years have brought several key turning points for Burkholder's HVAC, beginning in the year 2000 when Bob Burkholder succeeded his father at the helm of the company. Under Bob's leadership the company has grown and thrived despite the challenges of a questionable economy.
In 2006 Burkholder's purchased the neighboring Onufer Roofing Company building to accommodate our growing business and staff and in 2007 we used the additional space to build the administrative offices for the company. In 2010 it partnered with Reichenbach Oil Company to assume the maintenance responsibilities for their customers, bringing an immediate increase of five jobs and four that were added later, and over the past almost eight years we have weathered the turbulent economy that led to some temporary but painful realignments before coming out of the storm stronger than ever.
After recovering from the economic downtown that began in 2008, Bob Burkholder and his team reinvented the company and mission to some degree and as a result it emerged stronger than ever, with new partnerships, more jobs and a brighter future.
"We now employ 75 people and we are looking to add more positions as we continue to grow," Burkholder said.