Why Tune Up your AC?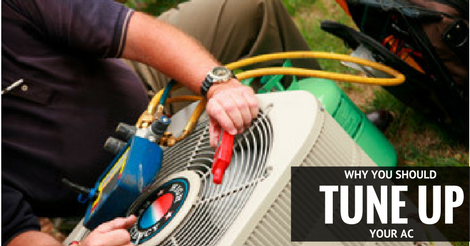 Summers here average in the steamy mid-90s. Ouch. When the summer temperatures rise in the Lehigh Valley, it's important that your cooling system is working optimally. It's proven that regular tune-ups of your AC unit will maintain it right near its original, working efficiency. With fewer repairs and maintenance work needed, you will recover your annual tune-up costs almost instantly.
Regularly scheduled AC tune-ups can also prevent major air conditioning breakdowns. Through inspections, your thorough AC technician can prevent a compressor from burning out by repairing a refrigerant leak. Much like an automobile tune-up, it's much more affordable to replace or fix a small part than to replace a major system component later.
By neglecting regular maintenance, which includes tune-ups, can void your product warranty. Many AC units come with a limited warranty from the manufacturer and require you to keep your AC maintained by a certified technician. If your warranty is broken, you may have difficulty obtaining replacement parts. Please check with a Lehigh Valley cooling and heating company like Burkholder's HVAC for more details.
A regularly tuned AC unit lasts longer than one that isn't. Regular maintenance leads to fewer repairs while neglecting proper AC maintenance can reduce its lifespan. Regular AC tune-ups ensure that your cooling system will last as long as possible. It will also run at higher efficiency throughout its lifespan, keeping your family, friends, and pets cool and comfortable.
A Burkholder's HVAC Certified Technician calibrates the thermostat, monitors refrigerant levels, looks for any water leaks, clean or replaces air filters, adjusts moving parts, measures temperature and air flow. And this is just a few of our procedures we perform. With regular AC repair and maintenance, you'll prevent minor issues from becoming big problems and ensure optimal performance of your cooling system. We also offer an annual Energy Savings Agreements, which can reduce the cost of a maintenance considerably.