Why you should hire a professional HVAC technician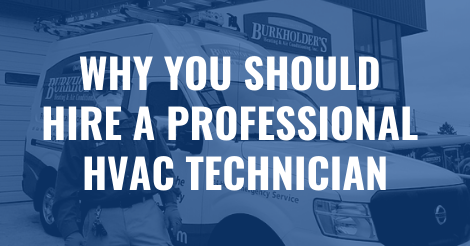 As a budget-conscious homeowner, you know that there are some jobs that you can do on your own to save money. In some cases this may work however, repairing your HVAC system is not one of them. Your HVAC system is one of the most important, expensive, and sophisticated pieces of equipment in your home. Trying to repair it yourself when you have no experience may cause more damage. Here are the main reasons why you should hire a professional HVAC technician:
Experience and Training
HVAC technicians are trained professionals who have earned their certification through education, rigorous training, and experience. Through their experience, they have learned the ins and outs of HVAC systems and have had the opportunity to work on many makes and models. They invest in the best and latest tools of the trade and participate in continuing education to stay up to date on new technology.
Save Time 
At Burkholder's Heating & Air Conditioning, when you place a service call, one of our professional technicians is dispatched to your home. He arrives in a fully stocked vehicle equipped with the most common HVAC parts and tools. Having these items on hand usually allows the technician to quickly diagnose and repair the issue. If you try to repair the system yourself, you may need to spend time diagnosing the problem, research how to fix it, and go purchase parts and tools. Making the repair yourself will take much longer than a professional.
Part Access and Warranty 
Many big-box retailers sell HVAC parts, but the professionals opt to purchase parts from supply houses for several benefits. Supply houses get their parts directly from the manufacturer, so you know that you are definitely getting the correct part to match the make and model of your equipment. All parts from the supply house come with a warranty. If there is an issue with a part, we can request a new one from the supply house. Finally, most supply houses have a good inventory of parts in stock that can be shipped quickly.
Tools Access
HVAC professionals have access to all the specialty tools to diagnose and repair your HVAC system.
Safety Tests
After a professional HVAC technician makes a repair, they run tests on your equipment to ensure it is operating safely. They test the furnace to check that it is not leaking gas and producing carbon monoxide and carefully handle the refrigerant that your air conditioner or heat pump needs. Your HVAC system is complex and one small mistake can jeopardize the health and safety of your family.
Save Money 
The cost of tools, parts, and your time can add up. Not fixing the issue correctly the first time can lead to other large, expensive repairs. A professional already has all the tools on hand, access to the parts you need, and the experience to spot problems before they turn into major repairs.
Call the experts 
Burkholder's Heating & Air Conditioning helps residential and commercial customers with their heating and cooling needs. Our NATE certified technicians service all makes and models of HVAC equipment. We also offer new system installations, indoor air quality accessories, and maintenance agreements. Call us today to schedule an appointment!