What's the big deal about NATE?
NATE or North American Technician Excellence is an independent third-party organization that certifies HVAC service technicians through knowledge-based testing. Since its establishment in 1997, NATE has come to be the benchmark of quality in the HVAC industry.
In order to become NATE Certified, technicians must undergo a series of comprehensive exams that put both their technical knowledge and customer service skills to the test. Technicians must pass a rigorous test for general core HVAC skills, plus an exam on specialized skills in at least one of 21 diverse HVAC fields. By passing these exams, technicians prove their ability to handle installations, maintenance, and repairs on all types of equipment, both quickly and properly. The importance of this is that it provides customers with both peace of mind, and equipment that operates as smoothly and efficiently as possible.
Here at Burkholder's, we are very strong advocates of continuing education for all our service technicians. We have an in-house Certified NATE instructor who offers training on specialty topics throughout the course of the year, and in our most recent course 15 Burkholder's technicians received their NATE certification! We'd like to take this opportunity to congratulate our NATE Certified technicians and to thank them for their commitment to excellence and dedication to our valued customers. Without these exceptional technicians, Burkholder's would not be able to provide the first-class service our customers know and expect. From all of us here at Burkholder's, hats off to our newest NATE inductees!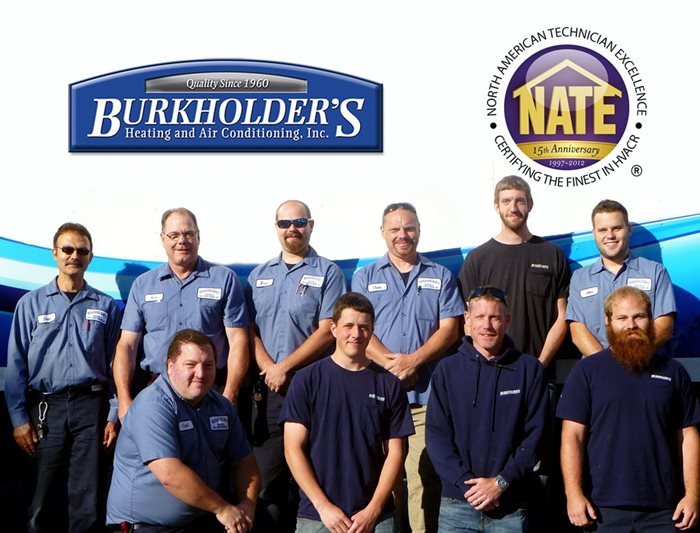 Names of Technicians from top left: Dave Llewellyn, Rich Schuler, Brian Spitzer, Chris Norris, Kevin Whitehead, John Kelley. Bottom Left: Carl Smith, Garett Strickler, Justin Zelinksky, Kyle Schrimpe, Geoff Packer (not pictured).