Summer travel with pets – what to pack?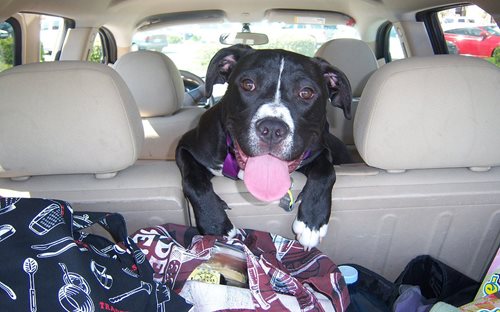 We know packing is a daunting task, so we put together a quick list of basic items you should bring along for your four-legged travel companion.
Food and treats – Suddenly switching foods can cause digestive upset.  Check with stores close to your destination to make sure they stock the brand you feed your pet. If not, pack enough food for the whole trip plus a little extra.
Drinking water – bottled or tap water from home if your pet is used to drinking that.
Food and Water bowls – portable bowls are easy to pack and anti-spill water bowls are fantastic for car trips.
Current Identification Tags, Collar, and Leash (Many places require your pet be on a leash no longer then six feet.  Consider getting a longer leash about 15-20 feet if you plan to hike with your dog or let them run around.)
Proof of vaccinations and health record from your vet. Depending on where you are traveling, you may need to provide this information. For instance, some campgrounds and dog parks require this documentation.
Paper Towels and Carpet Cleaner – for those muddy paws and other messes.
Old Towel – for after swimming or in case it rains.
Medications, vitamins, etc.
Toys or other favorite comfort items – traveling can be stressful for pets.  Having some familiar items around them will help them feel more comfortable.

First Aid Kit – You can purchase a premade kit in pet stores or online that includes items that fit the special needs of your pet.