Signs of a Faulty Thermostat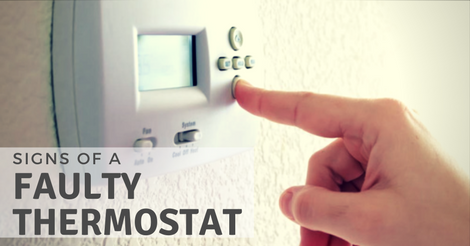 Thermostats regulate the temperature of your home by detecting the temperature of the room and comparing it to the desired temperature setting.  If your house is staying hotter or colder than the temperature you have set, you may have a faulty thermostat.
Follow these steps to rule out common problems before replacing the thermostat:
Programmable Thermostats
Check that the thermostat is turned on and is correctly set to "heat" or "cool."
Replace the battery if your thermostat uses one and see if it starts functioning properly.
Older Thermostats
Check the manual switch for adjusting the temperature.  If it feels loose, it won't be setting the temperature accurately.  Also, check the switches and buttons to make sure there aren't any broken pieces.  If the switch is loose or there are broken pieces on the thermostat, it needs to be replaced.
Force Your System to Turn On
Set the temperature to at least 5 degrees higher or lower than your normal setting depending on the season.  Wait to see if the thermostat clicks and the system turns on.
Additional Troubleshooting Steps
Check the breakers.  If the system does not turn on, check the breakers.  If they tripped, reset them, and check again to see if the system runs.
Get Rid of Dust Build up.  Open the thermostat and check for dust buildup.  Use canned air to clean out all the dust.
Check for loose wires.  If you notice any loose wires in the thermostat, don't touch them.  Turn off the breaker and if you feel comfortable, reattach the wire.  Remember to always consult your user manual or contact a professional.
Call a professional.  If your system will not turn on after trying these troubleshooting tips, call a certified professional.
If you need help with your thermostat or HVAC system, get in touch with us.  One of our experienced NATE certified technicians will come to your home to diagnose the problem.