Power Outages Leave You In The Cold?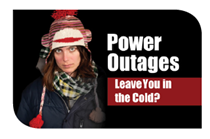 Jeff Lamm, president of Lamm's Machine, works with Burkholder's HVAC to keep both his business and his home running at peak energy efficiency. Burkholder's handles the commercial maintenance for Lamm's Machine, a custom component manufacturer providing engineered metal and plastic products to manufacturers and assemblers. Burkholder's makes sure that the HVAC systems in the 30,000 square foot facility are running effectively and efficiently to keep the staff of 32 comfortable throughout every season.
Burkholder's also keeps Jeff's family comfortable at home and has made several improvements to his HVAC system throughout the years. Burkholder's replaced the original air conditioning units Jeff bought when he built his home twelve years ago. Installing zoned high-efficiency units reduced his home energy costs. The team at Burkholder's also added a new air cleaner to improve indoor air quality.
Right after Hurricane Sandy hit last year, Jeff received an email from Burkholder's with information on whole home generators. He decided the time was right to get prepared for the next power outage and gave them a call. Burkholder's recommended a Generac generator. "The service guys adjusted everything in our home to run on propane," says Jeff. "They did a wonderful job."
The generator is installed in the home's power panel and is designed to operate the heat and electricity. Recently, Jeff had the opportunity to test out his generator. "The power went out and our generator began working within seconds," he says. The transition was seamless as the generator automatically powered up when the power went out, and switched off as soon as power was restored. The Generac generator kept his home warm, kitchen appliances working and lights on during the outage.
"The service guys are all great. I can't speak highly enough about Burkholder's service", says Jeff. "I call them and mention that it's no emergency and I get a call back and they're at my home or my business within a few hours." If you're interested in a whole house generator, air conditioners, indoor air quality, or residential or commercial maintenance, please contact us at (610) 816-6889 or info@burkholders-hvac.com.