New Year's Resolutions for Your HVAC System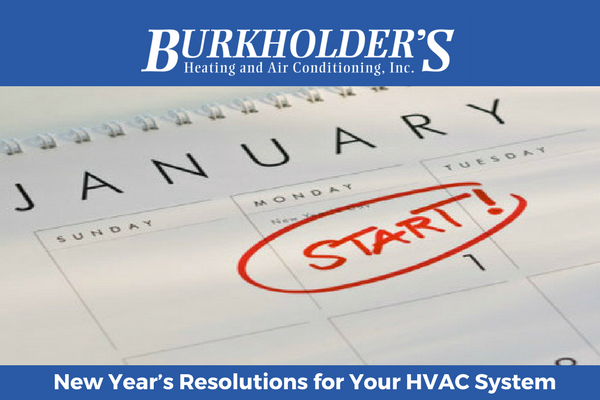 The start of the new year is a great time to take a fresh approach to your home's HVAC system. There are several things that Lehigh Valley homeowners can do to save energy and in turn, cut down on their heating and cooling costs in 2018. From investing in a smart thermostat to upgrading your heating and cooling system, consider the following New Year's resolutions for your HVAC system:
Change Your Air Filter
Clean air filters prevent dust and debris from entering the system. They improve your home's air quality and increase its operating efficiency by keeping the airflow smooth.
During the peak months of winter and summer, when your system is running most of the time, change your filter once a month.
Schedule Preventative Maintenance
We often compare performing maintenance on your HVAC equipment to automobiles.  Your car needs regular inspections and maintenance to prevent major repairs.  Servicing your heating and cooling system extends its life in the same way and can help ensure you stay comfortable.
Upgrade to a Smart Thermostat
Just by turning your thermostat back 7°F to 10°F for 8 hours a day from its normal setting, you can save as much as 10% on your heating and cooling costs each year.
A programmable thermostat allows you to "set it and forget it." You set the temperatures based on the times you are normally home and your habits, and then you almost never have to bother with it.
Having a programmable thermostat installed in your home is a win-win situation. They are convenient, bring added comfort, and save you both time and money.
Improve Your Indoor Air Quality
Maintaining high-quality indoor air is essential for your family's health and your HVAC system. The EPA ranks indoor air pollution among the top four health risks. Dirty air ducts have been identified as a major source of indoor air pollution. In fact, an air duct system is a breeding ground for bacteria, animal dander, mold and dust mites. These impurities can cause allergic reactions, breathing difficulties, infections, and disease.
We recommend adopting a regular cleaning and dusting schedule. The more you dust, the fewer dust particles will travel through ductwork and spread throughout your home.
Burkholder's HVAC offers state-of-the-art duct cleaning to help eliminate the contaminants in your home's air ducts. For a quote, contact us now!
Upgrade Your HVAC System
While a new system is a big investment, it does offer many benefits such as:
Substantial cost savings. Upgrading may save 20 to 40 percent on energy costs. Combine that with tax credits and rebates, and a replacement is attractive.
Comfort, efficiency, and air quality. New HVAC systems offer advanced programming options. They also improve temperature and humidity control, keep air healthier, and use 1/3 less fuel.
Dependable warranties. Today's HVAC equipment comes with superior warranties that cover many repairs and offer peace of mind. Today's HVAC equipment comes with superior warranties that cover many repairs and offer peace of mind.
If you are considering purchasing a new system, don't forget to check out our updated list of rebates and incentives programs. Right now, UGI is offering a $1,800 rebate on qualifying residential equipment!
Remember, creating a plan and sticking to it is the key to success! In 2018, resolve to stay one step ahead of your HVAC system and you'll benefit from comfort, savings, and peace of mind.