New Product: Honeywell Wi-Fi FocusPRO® Thermostat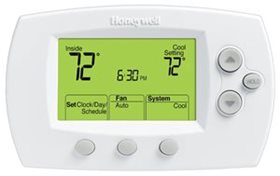 Burkholder's is excited to announce a new and innovative product to its lineup. The Honeywell Wi-Fi FocusPRO® residential thermostat offers families simple, precise, remote-controlled temperature management anywhere, anytime. Now, homeowners will be able to monitor and manage household comfort remotely from smart phone, tablet or computer anytime of the day or night.
The Honeywell Total Connect Comfort app (available in the Apple Store and Google play) allows customers to view and change HVAC system settings, get temperature alerts, and manage household temperatures for energy savings. A 7-day programmable function allows users to set specific temperature requirements and therefore save on annual heating and cooling costs.
Just like standard FocusPRO® models, the Wi-Fi edition has easy installation that connects directly to your home's heating system and existing Wi-Fi network. For universal application, it's designed to integrate with heat pump, gas, oil and electric systems and Burkholder's is equipped to assist with any form of installation.
With digital display, precise control, internet time-syncing and a 5-year warranty, the Wi-Fi FocusPRO is an easy choice. Honeywell WIFI FocusPro® Thermostat, you'll pay only $349 installed*. Contact Burkholder's today at Burkholders-HVAC.com or (610) 816-6889 to schedule your installation!
* Must be within Burkholder's service radius. Does not include wireless router. May not be combined with other promotions. Offer expires May 15, 2014.