Nest Protect Delivers Automated Safety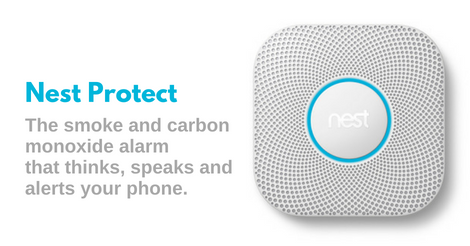 The Nest Protect is unlike any other smoke alarm and CO detector on the market. It performs automatic self-testing hundreds of times each day. When the alarm is triggered, Nest Protect speaks in a human voice instead of beeping. Its sensors can detect both slow and fast burning fires quickly. If the alarm is triggered, Nest Protect's voice will tell you whether it's from smoke or carbon monoxide. You'll also get a notification on your phone with the same information.
How does it work?
Get alerts on your phone. Nest Protect sends you a message when there's a problem or the batteries run low.
Tells you what and where. If there's smoke or CO Nest Protect tells you where it is, so you know what to do.
Sees the CO you can't. Carbon monoxide is an invisible, poisonous gas. Nest Protect tells you where it's hiding.
A light in the dark. Nest Protect has a light turned off, but when you walk underneath it, Pathlight can light your way.
Hush from the Nest App. Just burned the popcorn? App Silence lets you quiet the alarm from your phone.
10-year lifespan. Nest Protect's long-lasting sensors help keep you safe and sound for up to a decade.
Every second counts. The Split-Spectrum Sensor looks for both fast and slow burning fires.
Nest products work better together
Nest Protect interacts with Nest's growing range of products which includes Nest Thermostats, Nest Cam security cameras, Nest Hello doorbell, Nest x Yale lock, and Nest secure alarm security system. All devices can be accessed through the Nest app on your smartphone, tablet, or computer. They can also be controlled using Google Home and Alexa Voice commands.
An added benefit of using multiple Nest products in the same home is that they all work together. For example, if Nest Protect senses smoke or carbon monoxide, it can tell your Nest Learning Thermostat to shut off to keep the danger from spreading.
Nest products help you save energy, keep your family safe, and stay connected to what's important.
Burkholder's HVAC is pleased to offer professional installation on all Nest products. Contact us today to for more information or to schedule an installation.