Keep Comfortable with the Fujitsu Mini-Split
If you're ready for quiet operation, individual zoning control, and a ductless system, look no further than the Fujitsu Mini-Split.

The ductless heat pump and air conditioners provide indoor and outdoor units. Components like compressors and motors are installed outdoors, keeping all noise outside. This allows for a peaceful, noise free, inside environment.
Your family will be able to relax and enjoy time together in a quiet setting. The Halcyon systems have as many as eight indoor air handlers; eight zones or areas connected to one outdoor unit. The system maximizes energy efficiency by allowing you to heat or cool only the areas in use.
Each zone has its own thermostat and temperatures may be adjusted depending on occupancy. Burkholder's will help you design your system to ensure that zones are placed strategically throughout your home to help you lower your energy costs. Studies have shown that once the Fujitsu Mini-Split system is installed, homeowners have typically saved up to 25 percent in energy costs.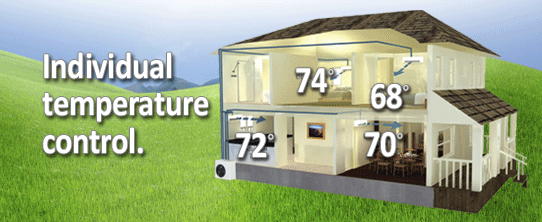 The Fujitsu Mini-Split system has little to no ductwork, resulting in the elimination of energy loss typically associated with forced air heating or cooling. Burkholder's has found that inefficient ductwork attributes to up to 40 percent of energy consumption. The Halcyon systems are green, providing high energy efficiency while keeping the air clean with high-performance filters to remove dust, odor and improve indoor air quality.
The Fujitsu Mini-Split is Energy Star® rated, meeting stringent energy efficient criteria established by the United States government. The systems also receive high Seasonal Energy Efficiency Ratios (SEER), offering the most energy efficient heat pump in North America.
If you're ready to save on energy costs and are interested in learning more about the Fujitsu Mini-Split, contact Burkholder's today and (610) 816-6889 or info@Burkholders-HVAC.com.