Is Your HVAC System Compatible With a New Thermostat?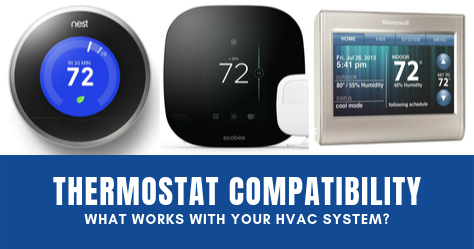 Programmable thermostats are a highly sought-after accessory in the HVAC industry today. People invest in programmable thermostats because they provide consistent temperature, automatically adjust to a set schedule after programmed once, increase efficiency, and reduce utility bills.
If you are considering purchasing a programmable thermostat, be aware that it isn't as easy as picking out the product of your choice and installing it. To receive the full benefits that come along with a programmable thermostat, you must make sure that the thermostat is compatible with your heating and cooling system. By doing so, you will save yourself money, time, and headaches in the long run.
If you know what type of HVAC system you have and other variations such as multi-stage heating or high voltage requirements you may be able to determine your options.
System Type and Voltage
What type of HVAC system do you have? Do you have a gas furnace, electric heat, a heat pump, or something else? Not all thermostats are compatible with every system.
What voltage does your HVAC system run on? Most systems run on a 24-volt power supply, but some, like electric heating systems, require extra voltage.
Heating and Cooling Stages
Multi-stage heating and cooling HVAC systems can run at full or partial capacity depending on your home's temperature. You can have a single-stage furnace and a two-stage air conditioner, or vise versa. Make sure the thermostat is compatible with a multi-stage system.
Communicating Thermostats
If you have recently installed an HVAC system with a thermostat, it may be a communicating system. This means that when installed, the thermostat is like a Bluetooth pairing to the HVAC system. Once paired, the HVAC system and thermostat can directly communicate with each other to maintain an optimal level of comfort control. Unfortunately, you cannot mix non-communicating and communicating equipment, so you are limited to products made by the same manufacturer of your HVAC system. The good news is that most of the communicating thermostats already include all the benefits programmable thermostats offer.
What about older HVAC systems?
We always recommend asking a professional. They can provide you with the information as well as any recommendations on models that are compatible with your system.
If you have questions or are interested in installing a new thermostat, it's time to give us a call! The experienced Comfort Specialists at Burkholder's Heating & Air Conditioning, Inc. in Emmaus, PA, will recommend a thermostat that is compatible with your HVAC system. Our NATE Certified technicians can take care of installing thermostats for you too! Call us today!