How to Improve Your Air Quality Right Now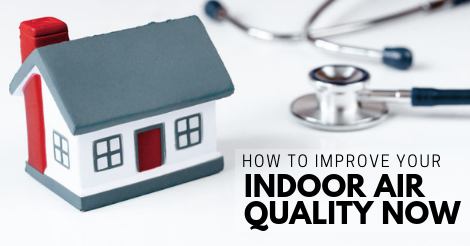 During the winter months, indoor air quality tends to be worse because there is no fresh air flow in the house. Allergens tend to stay trapped inside. If you are sensitive to indoor allergens or have respiratory problems, you may experience flare-ups.
We have a few easy tips that you can do now that will help improve the indoor air quality in your home:
Clean House. A clean home is a healthy home. Vacuum the carpets and area rugs at least once or twice per week. Regularly clean bedding, drapes, and other items that attract allergens especially if you have pets. Also, consider using dust mite proof covers on mattresses, box springs, and pillows.
Change your air filter. When is the last time you have changed your air filter? If your filter is clogged with dirt and debris it will not do its job of blocking out dust and other airborne irritants. We recommend checking your filter once a month and keeping a back up on hand to switch out if necessary.
Groom your pets. Dander and fur from pets accumulate and spread through the air into your ducts. To combat this, brush and bathe your pets regularly.
Open your windows. Here and there we get lucky with an unseasonably warm winter day. Take advantage of it and improve your indoor air quality the good old-fashioned way. Open a window!
Invest in an air purifier. Air purifiers help capture some indoor irritants that trigger your symptoms. Air purifiers come in standalone units or whole home units that are installed directly into your home's heating and cooling system. Whole-home systems remove particles and irritants throughout your entire home. These systems are especially great for those who have pets.
We hope these tips have opened a window on what you can do to improve your indoor air quality!
Indoor Air Quality in the Lehigh Valley
Are you experiencing indoor air quality problems in your home in Lehigh Valley? Contact Burkholder's Heating and Air Conditioning, Inc today and let us help you!