Heating Oil vs Propane in Bethlehem PA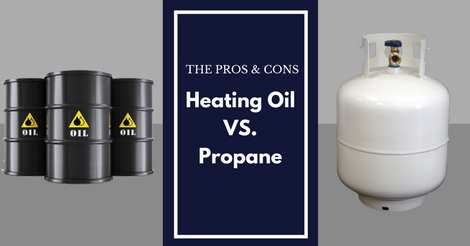 Winter will be here before we know it. In the Northeast that means dealing with snow and freezing temperatures. If you are looking to replace or update your furnace, it's time to consider the pros and cons of heating oil vs. propane. In Bethlehem, PA home heating efficiency is a hot topic for anyone looking to reduce expenses. Both propane and oil heating options that require tank refills, and any comparison is going to feature BTU, efficiency, and cost.
What is BTU?
The Spruce says "A British Thermal Unit (BTU) is the amount of heat energy needed to raise the temperature of one pound of water by one degree F." The higher the BTU, the quicker your home will heat. But, that doesn't necessarily translate to lower heating costs.
Heating Oil
Heating oil is a liquid made from petroleum and arrangements for home delivery are available from many companies in the Bethlehem, PA area. This option allows a homeowner to compare prices for oil and maintenance packages. You will need to have the furnace, chimney, and oil tank inspected and cleaned regularly, but that will likely be a standard part of your delivery agreement.
A single flame from the oil burner can produce an average of 140,000 BTUs although older oil heaters can be very inefficient, "a modern system running at peak performance can be rated up to 86% annual fuel utilization efficiency."
Propane
Propane is a gas that's gathered and doesn't go through a refining process. Propane heating efficiency is slightly higher than heating oil at 91,333 BTUs per gallon, but this doesn't consider the cost to fill a propane tank or the rate at which propane burns. The cost of propane varies considerably season to season. Propane burns at rates 10-15% higher than oil. This rate mostly evens out the costs between oil and propane usage BTU to BTU.
Oil costs fluctuate in different parts of the country, so it's important to communicate with the delivery company you choose for prices. Another consideration is the type of energy that will be used to run other appliances. If your oil furnace only heats the home and electricity is used for everything else in your overall utility bills could run much higher than if you choose propane. Some decisions involve details best reviewed with a professional. Burkholder's Heating and Air Conditioning services Bethlehem, PA. Give us a call to explore the best choice for your home.
Sources
https://www.thespruce.com/btu-grill-definition-334924
http://www.madehow.com/Volume-3/Propane.html
http://www.revisionenergy.com/pdfs/propane-vs-oil-heat.pdf