Does a Furnace Really Need Annual Maintenance?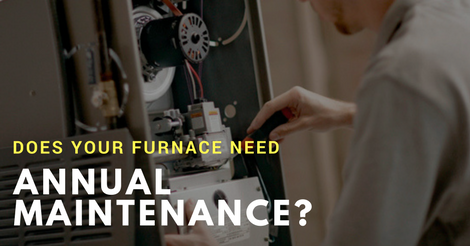 It's a fair question. Between health insurance, car insurance, electricity, water, phone bills, mortgage payments, groceries, gas, and everything else we must buy, is it necessary to have HVAC equipment maintained every year?
Trust us, annual maintenance is extremely important for several reasons:
Maintains your warranty.  Most manufacturers require that annual maintenance is performed on the unit every year by a professional, certified HVAC technician.  By skipping annual maintenance, you may be voiding your warranty.
Catches problems early.  If your system no longer has a manufacturer's warranty, annual maintenance becomes even more important.  By catching small problems before they turn into serious complications, the repair costs are often cheaper, and you avoid living without heat in the middle of winter until your system is brought back into operation.
Extends the lifespan of the system.  The average lifespan of a well-maintained furnace is 15 years.  Neglect furnaces won't last much more than 10 years without significant issues and necessary repairs.
If you would like to schedule maintenance on your system, get in touch with us!  We offer maintenance agreements on all types of equipment.  Other benefits we offer our maintenance customers are:
15% off all parts & labor
NATE Certified Technicians
24 Hour Emergency Service / NO overtime rates
Up to 25% energy savings
Increased longevity & performance of your HVAC System
Upfront pricing / No hidden charges
We often compare performing maintenance on your HVAC equipment to automobiles.  Your car needs regular inspections and maintenance to prevent major repairs.  Servicing your heating and cooling system extends its life in the same way and can help ensure you stay comfortable.