Reuse and Save!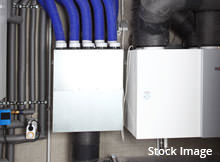 Energy Recovery Ventilation (ERV) takes the exhausted energy from your building and uses it to treat the incoming air, helping you meet ventilation standards while improving air quality and saving money.
In the summer, energy recovery systems pre-cool the incoming air to reduce load on your A/C units. In the winter, air is pre-heated and humidified by the ERV, considerably reducing your energy costs. Another benefit is that often times equipment can be scaled down, reducing capital expenditures. Imagine being able to maintain a comfortable temperature and humidity level all year AND save money! An energy recovery system from Burkholder's HVAC can help you do just that.
Benefits from Energy Recovery Systems include:
Availability of energy recovery ventilators or heat recovery ventilators, depending on the application
Reuse of rejected heat to cool the condensor coil or pre-heat incoming air lowering operation costs
Heat exchange as high as 90%, improving energy loss dramatically
Helps eliminate the problem of Sick Building Syndrome – SBS
Service and maintenance are available through Burkholder's even if we did not install the system!
---
RELATED PRODUCTS: APRILAIRE® ENERGY RECOVERY VENTILATOR
The Aprilaire® Energy Recovery Ventilator is designed to remove indoor air pollution and provide a constant supply of fresh air to the home. The special EnergyMax® transfer core utilizes the indoor conditioned air to pre-heat or pre-cool the incoming fresh air depending on the season.