How Do I Know if My AC Ducts Need Cleaning?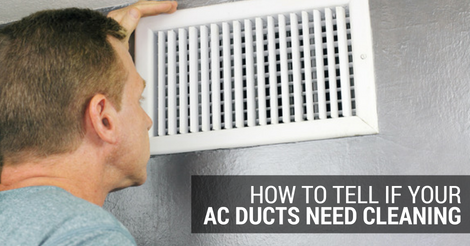 While professional HVAC service technicians know that Emmaus, PA homeowners should have their AC ducts cleaned every two to three years, most of our friends, neighbors and area customers never give their ductwork a second thought until a problem shows up.  So, how do you know when to schedule inspection and cleaning?
Heating and Air Conditioning Customer Service team offers these four signs it is time to make that call:
1. What's that smell?
Do you have an unpleasant smell circulating through your home? Are you having trouble locating the source? Rodent droppings, nests and pest infestations emit distinct odors that don't go away with normal cleaning and deodorizing.  Squirrels, mice, cockroaches and other unwanted pests typically find their way into AC ducts from the attic or inside wall cavities where you can't see a damaged section. The disgusting smells aren't just a nuisance, the droppings, egg shells and other matter left behind contains harmful bacteria that can make your family sick. And, when left unchecked an infestation can lead to expensive repairs necessary to restore your HVAC to peak performance.
2. What's that sound?
Have noticed that you or your family members seem to be coughing, wheezing and sneezing more frequently? Airborne dust, debris and pollen come in through open windows and doors and gets trapped in your AC vents and ductwork. Every time your system circulates air, some of these particulates float out into your living spaces. Over time, the accumulation may trigger mild to severe respiratory problems, increase asthma attacks and create havoc for those who suffer from seasonal and ongoing allergy problems.
3. What's that spot?
Have you noticed black spots on your registers and grilles? Maybe you're constantly battling mold and mildew in the bathroom. Mold thrives in any damp environment. When your heating and air conditioning system isn't working properly, indoor humidity levels may get so high that condensation forms on metal and glass services. This condition makes it difficult to maintain healthy indoor air quality. A complete AC service, including filter changes and ductwork cleaning, improves system performance, restoring indoor air quality.
4. What's your reaction when the monthly utility bill arrives?
One of the most common symptoms that AC ducts are ready for a thorough cleaning, is a steadily climbing power bill. A sudden, unexplained increase that doesn't go down with moderate weather, could signal your AC system is in crisis.
Recognize any of these problems? Schedule online or reach a Burkholder representative by calling us today!