4 Reason to Have a Generator Installed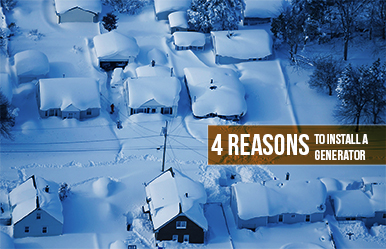 Some people really obsess about the winter, especially us. When the weather man is predicting a storm, we immediately begin planning our action plan.
We go the extra mile to please our customers and respond as soon as possible. Being in the business for over 50 years, we know that time is of the essence; especially when a customer's system isn't working properly in uncomfortable weather.
Unfortunately, no matter how much we prepare, some things are out of our control… like unexpected power outages.
During an outage, crews work tirelessly to restore power, but sometimes the weather simply doesn't allow power to get back up as quickly as we need it to. This leaves homeowners stranded without heat, refrigeration, or the use of other appliances in their home—unless, they have a backup generator.
Advantages of having a whole-home generator include:
COMFORT. When the power goes out, the generator automatically kicks on delivering power back into your home. No matter what type of heating system you have in your home, power outages can easily take them out leaving you in the cold.
SAFETY. Portable generators come with risks. Carbon monoxide positioning is a serious risk especially if the portable generator is put too close to the home or in the garage. Also, it is dangerous to start up a gas-powered generator in a storm with rain or snow. It could spark leading to fire or electrocution.
Additionally, if you have a family member in your household who depends on an electrically-powered device because of a medical condition, a generator can literally be a life-saver.
EFFICENCY. A portable gas-powered generator typically cost $60 to $70 per day to operate, which is two to three times higher than a whole-home generator.
PEACE OF MIND. Whether you are home or away, whole-home generators start automatically on their own. You won't have to worry about coming home to a frigid home and spoiled food.
We offer installation and service of whole-home generators that are reliable, convenient, and risk free.
Call or email us today to learn more about how we can keep the power on, your home comfortable and your family safe.