10 Tips for Choosing an HVAC Contractor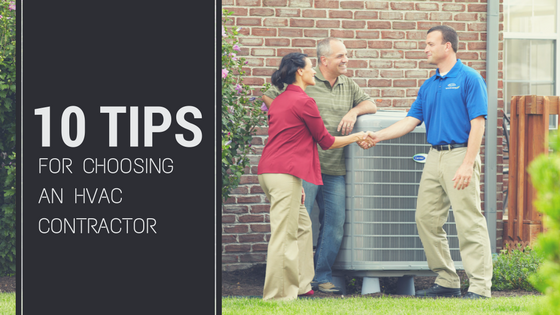 The Internet is flooded with stories and tips for choosing an air conditioning and heating company.
And, understandably so. No one wants to be dealing with a malfunctioning HVAC unit.
To help you in your evaluating potential HVAC contractors, we've compiled the following tips, taken from the Better Business Bureau and energystar.gov, both great places to start as you do your research – whether you are looking to hire someone to come into your home to do maintenance on your HVAC system or you are anticipating that you may need to purchase a new system for your home.
1. Do your homework: Make sure you are familiar with Pennsylvania's license and insurance requirements. Contact local trade organizations for names of members. Visit forums like Angie's List to get a sense of potential problems with any contractors you are considering.
2. Get your "ducts" in a row: Before you call a contractor, know the model of your current system and its repair history. If you have concerns about your system, make a note of them, in particular, any rooms that are warmer or cooler than you would like them to be. This will help potential contractors better understand your situation.
3. Don't be afraid to ask: Talk to friends, neighbors, and co-workers and ask for contractor referrals. Social media can be a big help here too. For example, you can ask your Facebook friends for contractor recommendations and look at any potential contractor's Facebook, Twitter and LinkedIn feed to see what customers are saying there.
4. Check references: Ask contractors for customer references and call them. Ask about the contractor's installation or service performance. See if the contractor cleaned up after him or herself properly and whether the job was completed on time and within budget.
5. Talk to the Better Business Bureau: Ask for a list of BBB accredited HVAC companies and check out the reviews on ones you're considering. Visit www.bbb.org or call (800) 776-5301 to get started.
6. Look for special offers. When it's time to buy, find out if there are any rebates on energy-efficient cooling systems. Local energy companies like PPL or UGI could offer some help here. Also, ENERGY STAR qualified products meet strict energy efficiency guidelines set by the U.S. Environmental Protection Agency and offer significant long-term energy savings. Begin your search at www.energystar.gov.
7. Get it in writing: Ask for written, itemized estimates. When comparing contractors' bids, be sure to compare cost, energy efficiency, and warranties.
8. Don't be penny wise and pound foolish. Be sure to shop around and get several quotes. Keep in mind that the lowest bid may not be the best deal if it's not the most energy efficient.
9. Sign on the dotted line: A signed, written agreement with a contractor before work gets started will protect you by specifying project costs, model numbers, timelines and warranty details.
10. Work now, pay later: Never put out money before the job begins. A responsible company doesn't operate that way.